How A Fabric Technology Used by Pro Athletes Can Improve Your Uniforms
Posted on 26 January, 2018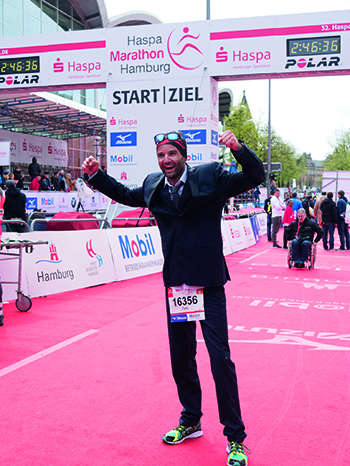 Did you know that the fabric technology that pro athletes use in hockey, cycling, running, football, and climbing is available in uniforms through Dimensions? Now the same fabric technology that helped this Salomon athlete shatter a Fastest Known Time in a recent ultramarathon can be incorporated into polos, suits, pants, jackets, and more. To put 37.5 technology to the test in suiting, Carl Gross had a runner take on the Hamburg marathon in a 37.5 dress shirt and suit. The result? He broke the previous record for running in a suit by more than 15 minutes and is now in the Guinness Book of World Records.
Your employees may not be running marathons, but in addition to increasing athlete efficiency, 37.5 technology has been proven to increase comfort. 37.5 works in the vapor stage, moving moisture out of clothing before liquid sweat can form. As a broad concept, you can think of 37.5 clothing like the climate control in your car. You set it to the temperature at which your body is most comfortable and if it gets warmer, the air conditioner kicks on. If it gets colder, the heat kicks on.
What a perk to your staff to show them that their comfort and performance is important enough for you to choose the finest thermoregulating fabric technology available for their uniforms! This is same technology they might find in their Adidas jacket, their Rossignol ski gear, or their Rip Curl snowboarding suit.
How does 37.5 technology work?
37.5 technology is reactive—it works with your body to determine if you need warming or cooling. 37.5 particles absorb the infrared (IR) energy your body emits and if moisture/sweat is present it speeds the evaporation to cool you. If no moisture/sweat is present, the IR energy is retained to keep you warm.
How does this impact comfort?
When moisture is removed from clothing, you stay warmer when it's cool and cooler when it's warm, widening your range of comfort in different temperatures and activity levels. This means you need fewer garments to serve a wider range of conditions.
How does it increase performance?
37.5 has been shown to increase athlete efficiency, as published in the International Journal of Sports Medicine (Jan 2017). When your body is not spending resources cooling or warming itself, it is more efficient. You have more stamina. Whether you are cycling in the Tour de France or standing behind a desk greeting guests all day, how much your body has to work to cool or warm itself impacts your work.
How long will it last?
37.5 technology offers a natural, permanent technology that will last the lifetime of the garment. It's not a chemical finish; the natural particles are embedded in the yarns or fibers that make up the garment and will never wash out.
For more information on which brands are using 37.5 technology, visit www.thirtysevenfive.com. For more information on how you can improve your uniforms by incorporating this unique and permanent technology, contact us at hello@dimensions.co.uk