Fashion in Flight
Posted on 25 January, 2017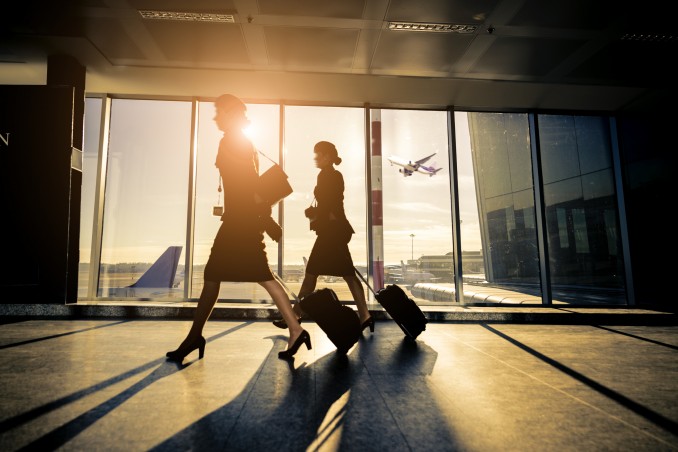 Of all the industries that wear uniforms, there are none that attract as much attention as aviation. It is fairly usual these days for airlines to partner with fashion designers to create their uniforms, with launch parties, campaigns and plenty of media attention to celebrate it. While all airlines incorporate different colours, style details and cultural markers to differentiate themselves, one thing remains the same: all cabin crew uniforms are easily identifiable to passengers.
However, these uniforms are much more than just aesthetic outfits, they are incredibly important for both the airline and its passengers. Let's discuss why…
The primary responsibility of all airline staff is to ensure the safety of passengers on board the aircraft and to assist and guide them in the event of an emergency. This means that the key necessity for any aviation uniform is that it should adhere to safety requirements, including flammability regulations and flexibility, to ensure that attendants will not be restricted in any way or hindered from performing their principal role of helping passengers should an emergency occur.
Both cabin and ground crew need to exude an authoritative image, to establish order and control and ensure that people respond to them accordingly. For this reason, uniforms must command respect, so that passengers will want to pay attention to what attendants have to say during safety announcements; this need was clearly demonstrated in the recent film 'Sully', which dramatised Flight 1549 being ditched to safety on the Hudson River in 2009.
Are there any other factors when considering uniform design for the aviation industry?
With as many as a quarter of people recently surveyed being apprehensive about flying, it is important that cabin crew should inspire trust and have a calming effect on their passengers. Another key responsibility of cabin crew members is to make all flights as comfortable and enjoyable as possible for those on board.
This means that while crew members need to look authoritative enough for people to trust in them and believe that they are capable of handling the safety of all of those on board, they should not be so much so that they are intimidating to nervous passengers. Crew members need to be able to calm those who remain apprehensive.
This is where the use of colours within uniforms are key. Whilst the overall smart appearance shows that they are in control, the colours provide the personable image that they need to make people feel at ease.
Many airlines use the colour blue in their uniforms, which is shown to have both an authoritative and a calming effect. Similarly, red is a powerful colour to wear if someone needs to attract attention, as it is commonly associated with energy, power and confidence – key traits for crew members.
How important is the durability of clothing for members of the aviation industry?
Cabin crew can work long shifts and their uniforms can be put through a lot while they are at work, therefore the clothing needs to be resilient and be of a high enough quality to withstand every eventuality. As every day can pose different challenges to both cabin and ground crew, uniforms need to be workable for the different scenarios that staff might find themselves in.
One requirement for cabin crew is to be able to reach into the overhead compartments, as well as push a heavy trolley up and down the aisle of the plane at least once during flight and it can also be necessary for staff to walk long distances through airports. All of this lends to the need for comfortable and practical clothing.
Are some fabrics more durable than others?
Fabrics should be durable and easy to look after, as attendants need to be able to perform their duties without too much concern for the maintenance of their uniforms. Natural fabrics such as cotton which are made from cellulosic fibres tend to crease easily, whereas protein fibres such as wool and silk, have higher resiliency and are better able to maintain their shape. They do not burn easily, but do become weaker with moisture.
Man-made fibres on the other hand, have higher levels of durability. However, the most robust uniforms are made with blends - a combination of natural and man-made fibres, in order to benefit from the best properties of both; those being comfort from the natural fibres and durability from the man-made fibres.
How can a uniform influence the confidence of cabin crew?
Not only should uniforms be practical, but there is an expectation of cabin crew that they should look stylish and well-groomed at all times. The more recognisable the brand image, the more the crew will stand out to passengers on the aircraft.
Not only is this important for passengers to feel like they are travelling with an airline that cares about their passengers and their staff, but it is important for the cabin crew too. Looking good helps staff to feel confident, which is crucial when they are interacting with people all day. Feeling confident helps crew to maintain and portray the positive outlook which they need to make passengers feel at ease.
How easy is it to maintain a world class brand image in an international environment?
As both ground crew and cabin crew members interact with people from many different countries and cultures on a daily basis, it is important for the clothing to depict a universal image to a global audience, with subtle cultural identity markers to demonstrate the airline's national identity.
As with every industry, the uniforms also need to be flattering on a wide variety of people. Crew can consist of people of different ages, ethnicities, shapes and sizes. The uniform needs to exude a world class brand image, irrelevant of who is wearing it.
With all of the above in mind, it is clear how important uniforms are within the aviation sector. We currently deliver a fully managed service for the bespoke supply of both above the wing and below the wing members of airline staff for some of the UK's leading carriers.
If you would like to discuss your corporate wear needs, please call us on 01332 697045 or email hello@dimensions.co.uk and we'd be happy to help your people love how they look at work!