A New Dimension in Online Ordering and Reporting
Posted on 28 March, 2017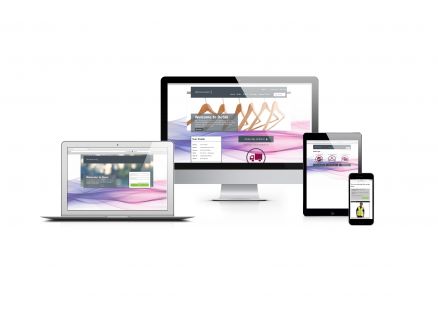 We have developed two brand new online systems for ordering and reporting, putting clients firmly at the centre of our infrastructure and our organisation at the forefront of the corporate clothing industry.
The first of these two innovative platforms is Detail, which provides an impressive visual ordering experience for our customers and their wearers, and has been developed to be easy to use on PC, tablet or smartphone, providing accessibility at any time. The majority of our customers have now transferred onto the new system.
With market leading functionality, the platform has the flexibility to be tailored to meet specific client requirements and includes a user-friendly electronic catalogue, secure access, allocation control at point of entry, budgetary and authorisation controls, and order acknowledgement via email. A credit card payment facility is available if central invoicing is not a requirement.
Allocation controls allow us to manage clients' spend, by restricting the number of items issued to individuals. This is worked out according to job function and hours worked. The sophistication of the system ensures that these controls are effective, even with the complexity of the choices offered within a 'wardrobe' range. The client database contains full details of the items issued to each individual wearer, within each client location.
The ongoing investment into our infrastructure and the rapid development of game changing digital solutions, is a key ongoing focus for us. Detail will continue to be invested in and developed, to provide more industry leading functionality, and adding value into our extensive managed service offer, thereby enhancing what we bring to our clients and their wearers.
We are also proud to launch an innovative, self-service reporting tool, MiDetail, which gives up-to-date visibility of all the core information which is pertinent to the client's relationship with us. The system provides the client with an initial data summary dashboard, which offers information and statistics relating to recent uniform sales and returns. This allows clients to view how their account is performing, whenever they need to.
There is also an order profile section which includes data for any specific product, ordering location or time parameters that the client chooses. MiDetail provides 24/7 access to data and summaries, which are easy to interpret and utilise. The client also has the ability to control dynamic views, to sort or download the data as required and see information on a specific product, location or time. Data can also be downloaded into Excel for further analysis and manipulation.
Speaking about MiDetail, Phil Harland said "In today's world, we all like to have immediate access to data and analysis. MiDetail provides this to all of our clients via a zero footprint application that is available on your PC, tablet or smartphone. The ability to access real-time data and configure it to analyse your business, your wearers or your styles, is all available via the new MiDetail application from Dimensions."
Client engagement is central to how Dimensions works and the recent major developments to our digital suite of applications has all been driven by our clients. The new Detail system is industry leading, with bespoke software development which is owned and managed by Dimensions; this means that we have total flexibility and can continue to develop to meet our clients' needs. The 'engine and logic' within our system takes our years of knowledge and translates it into a customer friendly ordering environment, but one which can be configured to manage the clients' needs, whether that be in terms of garment issue, budget control or geographical management.
Phil Harland, Director of Client Management