Georgina's Journey to Ethical Compliance
Posted on 05 October, 2016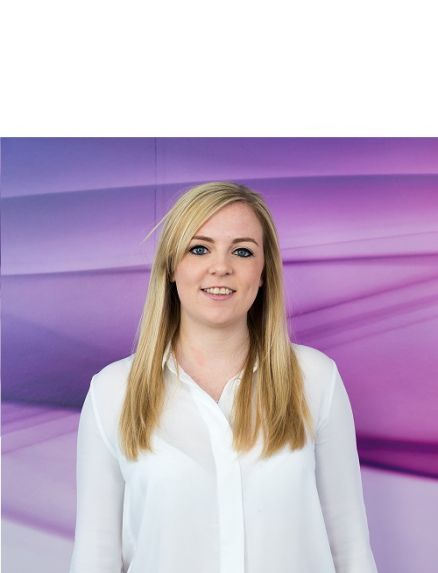 Here at Dimensions, it is really important for us that we treat all staff with respect and create a work environment which is both fun and challenging. As such, it is essential that our staff are provided with opportunities to grow and progress within the company, whether that be within the department that they originally join, or by diversifying into other departments to broaden their skillset. A leading example of progression from one department to another, is our Ethical Compliance Officer, Georgina Deighton.
Georgina joined Dimensions in July 2008 as a Customer Services Co-ordinator, having just completed her A-Levels and progressed into the Technical department in 2009. Georgina quickly advanced to Junior Garment Technician and Dimensions sponsored her to complete an apprenticeship in Garment Technology at Leicester St John's College. Georgina excelled at the course and completed the three year programme in two years – a fantastic achievement! One of the key responsibilities within this role, was to monitor the audit reports that came through from various audit companies and then report monthly on the results. This, Georgina says, is where her taste for Ethical Compliance developed.
In 2012, Georgina became Dimensions' Ethical Compliance Co-ordinator and was soon promoted to Ethical Compliance Officer in 2014. At first, Georgina says, the transition from Customer Services to Ethical Compliance was challenging; "I was used to routine in Customer Services. My job in Ethical Compliance means that anything could happen on a day to day basis. I may be required at a customer meeting, visiting a supplier, travelling offshore or attending meetings at the Ethical Trading Initiative in London. Every day is different, which I now love".
Being such a broad subject, we asked Georgina to summarise what areas Ethical Compliance covers within Dimensions. She described Ethical Compliance as covering: "offshore and UK suppliers, internal and external customers and it definitely goes beyond audit. I get involved in presenting to our UK staff on ethical compliance in our supply chain, developing internal and external culture which also stretches to sustainability and environmental needs of the business. It is important that I am able to protect our brand, as well as making sure our clients trust that we will protect theirs, so I need to be certain that our supply base is working towards exceeding requirements at all times".
Although each day can present new challenges for Georgina, she describes her key responsibilities as being: "ensuring that we are working in line with our 3 year CSR strategic plan and that the programmes which we are running in our factories are working and that we are seeing positive results. I also deal with audit requests and create Corrective Action Plans, by liaising with our Bangladesh Compliance Manager on programme updates. As well as all of this, I often meet with account managers or clients, to learn about specific requirements which they would like us to deliver. I also have to report to the board on our CSR activities and much more!"
On a daily basis, Georgina works closely with Technical Services Director, Derek Boyden and Senior Quality Assurance Technician, Mick Spencer. About her team, Georgina says, "my director, Derek, is very approachable and has a wealth of knowledge that I have been lucky enough to learn from. His experience and leadership has allowed me to develop my career in Ethical Compliance and get to where I am today. I also work with Mick who works in Quality Assurance and he helped me to grow in the Technical Department when I first trained as a Garment Technician".
We can't wait to see Georgina's plans on how to develop Dimensions' Ethical Compliance programme over the next couple of years and we are looking forward to finding out what she will excel at next!