Dimensions visits Dhaka
Posted on 11 August, 2016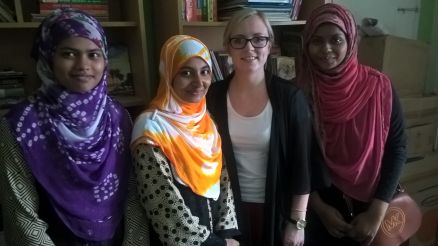 It is really important to Dimensions that our staff are provided with opportunities to grow and progress within the company, whether that be within the department that they originally join, or by diversifying into other departments which they might enjoy working in. A prime example of progression from one department to another, is our Ethical Compliance Officer, Georgina Deighton.
Georgina joined Dimensions in July 2008 as a Customer Services Co-ordinator and in 2009, was offered a job within the Technical Department. Ethical Compliance has always been part of Georgina's job role; however this became her full time position in 2012. Alongside managing the compliance in our supply base and working with third parties to introduce development and training programmes with suppliers, it is Georgina's responsibility to oversee the relationship between Dimensions and the Bangladeshi School charity which we support. Georgina was recently offered the opportunity to visit the school which Dimensions has been working with for the past four years. Georgina describes her trip to the school here:
"Since joining Dimensions eight years ago, I have been lucky enough to have gone on various trips abroad, to visit offshore suppliers in countries such as Morocco and Sri Lanka. One country that I had never been to, is Bangladesh. So when I discovered in June that it would be my next travel destination, I was both excited and nervous about what the trip would entail.
Part of my trip was to visit the school which Dimensions has worked closely with over the past four years, Glory Future Model School. In the year July 2015 – June 2016, Dimensions fundraised internally through various fun activities and charity days and through these events, we were able to donate £15,000 to the school. This has contributed to the running and maintenance of the school, including rent, teachers' salaries, daily meals for the children and educational supplies. However, the money will also sponsor three girls to attend university on a full bursary in Dhaka, Bangladesh. I was really excited to see the school and the children and to witness first-hand what a huge difference the money that we have donated to the school has already made.
After a long, sixteen hour journey, I arrived in Bangladesh and dropped my bags at the hotel before heading straight to the school to see the children with Derek Boyden, our Technical, QA & Compliance Director at Dimensions. As soon as we arrived, we were greeted by the children of the school, who had lined up at the school gates to greet us with flowers and huge smiles. It was extremely heart-warming to see that the children knew who we were and couldn't wait to show their thanks to us for what we had done for them.
At the time that we were visiting, it was exam season at the school. The school follows the Bangladeshi curriculum to ensure that the children leave school with the proper qualifications to enable them to continue their studies at university, or to begin work straight away. There are about fifteen classes in the school in total, which are split by age and then into boys' and girls' classes. I really enjoyed going around all of the classes and seeing the progression of the children as they got older.
As well as meeting all of the children, I also had the opportunity to be introduced to the three girls whom we are sponsoring to attend university. The girls were able to tell me about themselves and their families, as well as their plans for the future. Two of the girls are planning to study Marketing at university, with the other studying Accounting. All three girls have very different ambitions for the future, which was really great to hear. The girls will keep in contact with me throughout their studies, which will allow everyone who donated money towards their bursaries to see exactly what their money is doing to help.
Although I found the trip difficult in some aspects, such as the temperature (37°c everyday!), the traffic and the huge change in culture, I am so grateful that I was given the opportunity to visit Dhaka and to see for myself how much Dimensions has helped the children that attend Glory Future Model School."