Dimensions' Visit to China on Behalf of Lay Members of Unite the Union Inside Arriva
Posted on 14 November, 2016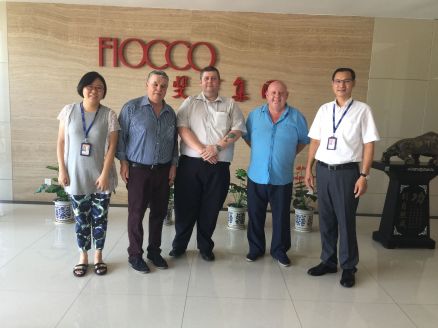 At Dimensions, we recognise that overseas sourcing of fabric and garments will lead to substantial benefits to our clients, but we are also extremely conscious of the potential social impacts offshore supply can have. For this reason, we regularly monitor and audit our supply partners through rigorous programmes, and members of senior management undertake regular site visits. This year alone, we have conducted 48 audits of our supply partners, but as well as our own audit programmes, our suppliers are independently audited by Intertek. We offer complete transparency of our supply chain and therefore clients are encouraged to partner with us on any audits that they wish to undertake at supplier sites.
Recently, our Technical QA & Compliance Director Derek Boyden, accompanied Unite Union lay members from inside Arriva Bus, Jim Moran and Chris Smith, to two of our factory partners located in China. Arriva Bus has been a client of Dimensions' since 2011 and Unite was very keen for representatives to join us on visits of our factory partners. The purpose of the visit was to conduct site visits which would enable the officials to develop a clear understanding of both ours' and the factories' adherence to Corporate Social Responsibility policies. This was evaluated by the Unite Union lay members, by way of factory tours and interviews with workers and senior management from the factories.
As a fully registered member of the Ethical Trading Initiative (ETI) since 2005, we are committed to supporting suppliers as they implement the ETI base code of labour practice and create a fair and safe working environment for all employees. Similarly, as Britain's biggest trade union, Unite is committed to serving the best interests of its 1.42 million members, by protecting workers' rights and improving employees' quality of life, by liaising with employers and the government.
The first factory which was visited, is located approximately a three hour drive North of Shanghai and currently manufactures knitted fleeces for other clients of ours. Following a tour of the factory, Unite Union officials Jim Moran and Chris Smith put questions to the manufacturers, based around the ways in which the factory treats its workers and whether the workers have the ability to voice any concerns that they may have to the factory owner. Members from the Workers Participation Committee were also invited into the office to answer questions about management-worker relationships. The members confirmed that relations between the management and workers are positive.
The second factory is located in the Zhejiang Province of China and is a manufacturing facility which is currently used to produce Arriva Bus uniform garments. Following a tour of the factory, the Unite Union officials were met by the factory owner, who willingly answered questions regarding minimum wage, worker retention and worker participation. The chairman of the factory also explained that the factory has recently installed a gym, table tennis, access to computers and a library, which are available for staff use. We were also told that the factory regularly hosts sports days and outings for the workers, to encourage a sociable and enjoyable environment.
Derek Boyden of Dimensions, affirmed that it was a valuable trip for all involved. Whilst we were proud to show the representatives from Unite that the organisation provides fully compliable manufacturing quality assurances, the factory partners also welcome the opportunity to present their facilities to both us and our clients.