Charity in-store colleague t-shirts are a big success
Posted on 13 April, 2015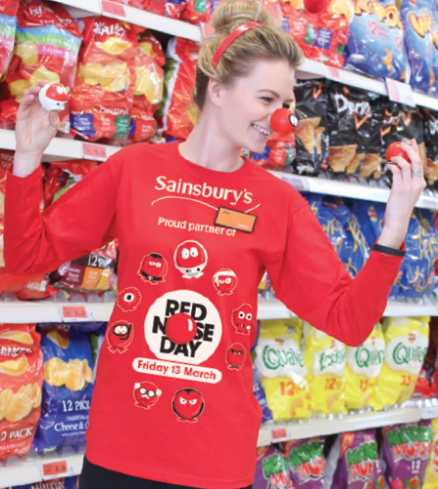 As well as providing a fully managed service for our clients, Dimensions are able to assist with any special promotional garments required for events such as Christmas campaigns or charity events.
Red Nose Day 2015 is the 3rd occasion Dimensions have supported supermarket Sainsbury's with their in store colleague t-shirts to promote the fundraising event.
The exclusive t-shirts, are purchased by colleagues and worn as uniform between the 1st and 14th March, are a great way to help raise funds for the event. All the money raised from the t-shirt sales is donated to Comic Relief to help support around 2,000 projects across the UK, and also projects across Africa.
Although the garments are only used in store for a short period of time, planning for the event started in summer 2014.
Account Manager Natalie explains "The base t-shirt order is placed in the summer to ensure that the quantity required is available for when the store colleagues come to place their orders; however the actual final design isn't confirmed until nearer the event. The Red Nose design is different each year, and the t-shirts also need to incorporate this. This year, Dimensions created 7 different print options for Sainsbury's who then select the final design. Once decided, the t-shirts are sent to our printing partner who screen print the design. This year, 75,000 t-shirts were ordered by Sainsbury's. The orders forms are sent to stores in late January and colleagues are given a month to place their orders. It is always a very popular event and a really enjoyable project. We are able to plan far ahead for this event which really helps us to make this project run smoothly."