Calf coats keep out the chill for Sainsbury's
Posted on 20 March, 2015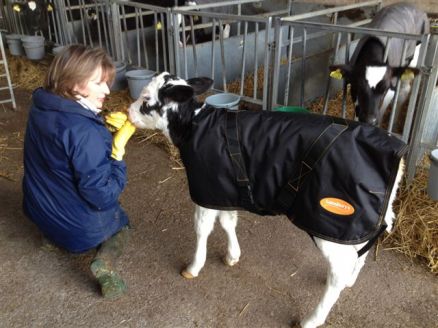 We love to be able to help our customers wherever we can, and when one of our clients needed help with their livestock, we took a stroll into the unknown.
Our Sainsbury's Account Manager received a request from her contact who was enquiring about some calf coats needed to keep the newly born cattle warm during the winter.
Natalie explains "I love a challenge and this unusual request was definitely that. When I pitched it to our Sourcing and Technical teams, they did have a giggle for a few minutes, but when they realised was a genuine request, they jumped straight on it. We do get out of the ordinary requests from our customers, but I'd not heard of one quite like this before. Keeping the calves warm is imperative for their health and growth so they have more energy to fight off any infections which can arise shortly after their birth. The calves use more energy shivering in the winter months, so the coats help to keep them warm and conserve their energy".
One of our suppliers already had equestrian experience so we were able to progress with the project very quickly following the initial conversations. Once our design was approved by Sainsbury's, the coat was then trialled for 3-4 weeks. It was very well received by the trial farmer and was approved for mass production in October 2014. A substantial order for the coats was then placed by Sainsbury's which were delivered in January 2015.
Natalie explains "Just as we face challenges with delivering seasonal items into stores to keep our wearers warm in the winter, this project had restrictive elements too which required the coats to be delivered in time for the calves being born. The project team really stepped outside their comfort zone and worked really hard to make sure the coats were delivered in time for when they were needed. This project has been a huge success and we see this as an ongoing supply to the customer which is great!"