Heritage and Innovation are part of our DNA
Posted on 01 April, 2014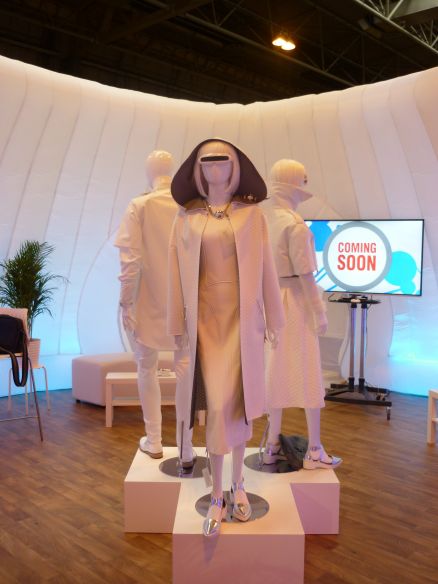 On the 1st and 2nd April 2014, Dimensions exhibited at the Professional Clothing Show held at the NEC in Birmingham, showcasing our new and innovative design corporatewear concepts of the future.
This year we constructed a bespoke enclosed space through the use of a panoramic dome, which created our own studio to display our leading edge designs.
The main attractions within the dome were our three 'outfits of the future' which demonstrated what technologies could be applied to corporatewear designs and fabrics of the future.
The outfits were created using a mixture of concepts from 3D textured garments and accessories to fibre optic materials, audio technologies, climate adjustable and fragrance releasing fabrics. The garments generated many interesting and animated debates and conversations between exhibition attendees and our award winning design team.
The exhibition this year gave us a platform to showcase our dedication to innovation, and our new ideas demonstrated how the concepts can be applied to corporatewear garments moving forward. It was also a prime opportunity for our New Business Team to provide answers to any attendees with questions about who we are and what we specialise in, as well as discuss other innovations we are undertaking as a business outside of the design department.
The catwalk show also provided us with an occasion to display the McDonald's range which we have developed in conjunction with Hemingway Design. Furthermore, we were able to give attendees an opportunity to see these garments up close on mannequins alongside our newly designed Pizza Hut range which was also being premiered.
Outfit 1:
The main feature of this outfit was the hooded cocoon coat. The fabric imitates a washable wearable textile which has microelectronic devices sewn into the fabric to act as a communication interface.
This type of wearable textile has the potential to be many things from being a computer to a mobile phone to a music portal. It is a way to constantly feed information to the user.
The slim line dress is created in a bonded fabric that mimics a senses textile where by a microencapsulated lace is bonded between the outer and inner fabric. This in turn reacts when in contact with skin to then release a light fragrance.
Outfit 2:
The textured skirt demonstrates the wearable textiles created from digital designs and 3D printing.
This technology has been around since the 1980's, but only really widely available commercially in recent years. This technology can be used in many industries from fashion and footwear to manufacturing of cars, hence the quote "3D printing is the next revolution in manufacturing".
The long sleeve jersey top and handbag have been designed using fibre optic fabric to show how garments can be lit up and change colour. Other technology developments we are seeing in today's market include L.E.D circuit boards woven into garments to illuminate them and offer changing colours. This technology can be linked to emotional clothing and BlueTouch technology.
The quilted cropped jacket is made in fabrics that mimic an innovation called Aeroloft. This fabric incorporates micro-scopic holes that open and close and act as a temperature adjuster. When warm the holes open to ventilate, when cold the holes close to heat.
Outfit 3:
The men's shirt is in a fabric that is to imitate a self cleaning technology that uses UV light to produce a photo catalyst. Deodorant, anti-bacterial disinfectant and purifying air creates the self cleaning process. This is a technology being developed at the moment and has great potential use in garments used in hot climate countries.
If you have any questions with regards to this article, please call one of our team on 01332 697 350, or alternatively, you can email us: info@dimensions.co.uk
Photography courtesy of Phil Harland and Dimensions