Dimensions collaborate with leading UK design agency HemingwayDesign
Posted on 01 July, 2012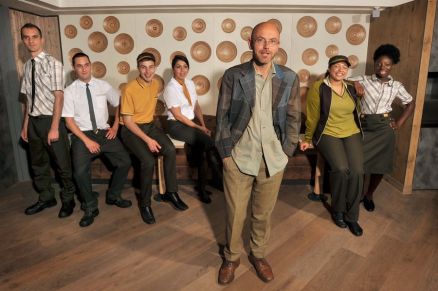 In 2011, Dimensions paired up with leading British designers Gerardine Hemingway MBE, Wayne Hemingway MBE, the HemingwayDesign team and upcycling company Worn Again, to design and manufacture the McDonald's uniform.
During an 18 month period, all parties worked closely together with McDonald's to develop a uniform that would look fresh, fashionable and be practical whilst also complementing the UK restaurants. The end result was a design that had never been seen before which used a new vibrant colour palette.
Through the journey from design to delivery, McDonald's employees were directly engaged in the development of the uniform, through uniform trials, surveys and competitions. McDonald's, HemingwayDesign and Dimensions are all proud that the McDonald's workforce evolved the range which is seen today throughout their UK restaurants.
In 2012, London held a truly magnificent event; the Olympic Games. The new range was launched at the Olympic Park's 4 restaurants which also includes the largest McDonald's in the world.
During autumn 2012, the new collection was then deployed gradually across the 1,200 restaurants in the UK and is now worn by more than 97,000 employees.
Dimensions and HemingwayDesign are collaborating on a number of other exciting projects which we hope to inform our readers about in the near future!
If you have any questions with regards to this article, please call one of our team on 01332 697 350, or alternatively, you can email us: info@dimensions.co.uk