Pets at Home New 'Recruit' Receives His Very Own Uniform
Client: Pets at Home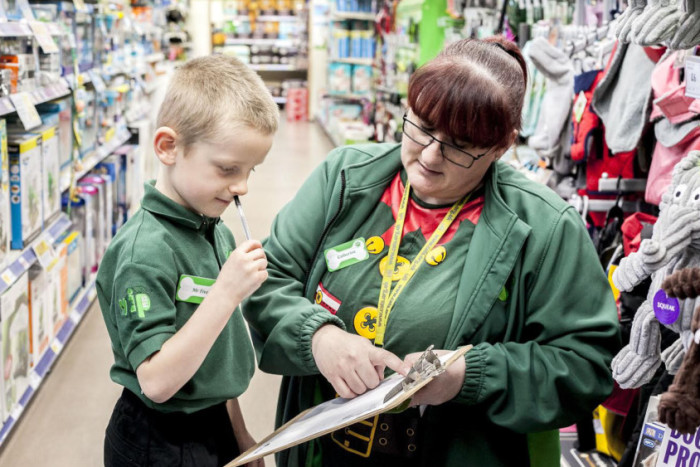 At Dimensions we like to go the extra mile for our clients, one of these clients is retail giant Pets at Home. We've worked in partnership with Pets at Home for 5 years, designing and creating garments to reflect their brand values and to create the iconic, easily recognisable uniform that you see in their stores today.
So when Pets at Home got in touch with a different kind of uniform request we were only too happy to help.
Mr Five aka 6 year old Thomas Jackson is diagnosed with high level functioning autism, and has been visiting the Dronfield store up to 12 times a week helping out the staff with their daily duties. Mr Five is "in charge" of the Marketing and has only missed one day of work since starting to help out at his local store, and even then he insisted on ringing in sick!
As an early Christmas present for the youngster, staff in the store got in touch with their account manager at Dimensions to ask if we could create a one off, bespoke uniform for the pint sized helper. Of course, we said yes and immediately got to work resizing designs to fit on a smaller uniform, and sourcing child sized garments to really make him feel a part of the team. Thomas received his uniform as an early Christmas present and he was delighted!
It's hard to dispute that Thomas really does look the part!
Peter Pritchard, CEO of retail at Pets at Home, said: "When Roy approached us to tell us Mr Five's story we knew we had to reward his hard work and make him an official member of the Dronfield team by presenting him with his very own uniform."

"We are committed to going the extra mile for our clients and our creative team enjoy the challenges of one off designs like this. Having a dedicated account manager means requests like this from any of our clients are managed through the business to deliver the promise we make. We were able to provide Thomas with his custom uniform, with our compliments. We're delighted that Thomas loves his new uniform and look forward to further developing our relationship with Pets at Home over the coming years."