Dimensions and Tesco take a trip down memory lane at Goodwood Revival festival
Client: Tesco
Tesco sponsored the Goodwood Revival festival again this year, and Dimensions were on hand once more to assist the retailer by providing some very special nostalgic uniform outfits.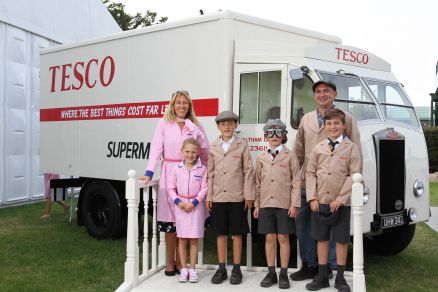 The festival attracts more than 150,000 people, and Tesco recreate a 1960's style store on site at the festival to provide their customers with a very nostalgic experience. The store is stocked with 1960's much loved products in their traditional packaging and specially produced retro games and toys.
100 Tesco colleagues were provided with uniform by Dimensions which was a replica of the one worn 50 years ago. This year there was an added twist to what Dimensions were asked to provide, Account Manager Ann Barbour explains "This is the fourth year Tesco have asked us to support them with this project and although it is a demanding task, it is extremely fun to work on. This year we had a higher demand for the standard store uniform items but we also provided some brand new items which included driver's flat caps and ponchos, the glamorous dolly dresses which were exclusively made in the UK, and my favourite items from this year, miniature versions of the main range uniform for children's dressing up clothes, which were also manufactured in the UK! Due to the fantastic reception the dressing up outfits received at the festival this year, we are looking into the option that these can be available for festival goers to buy in 2015. It's great to be able to give people a walk down memory lane".
Ann and her team begin planning for the event in January and this lead time ensures that Dimensions' UK manufacturing routes are fully equipped to cope with the increase in demand which is seen year on year.