Central England Co-operative Funeralcare scoop £1000 prize for Dementia UK!
Client: Co-op Funeralcare
If you follow us on our Instagram or Twitter, you'll have seen that in December we ran a competition for our clients. We asked them to decorate a Gingerbread man, take a snap and send it to us on our social media channels. The prize was a whopping £1000 for their corporate charity. We had some fantastic entries from our clients, including Royal Mail, First Bus and Debenhams but we're delighted to announce that the lucky winners were Central England Co-operative Funeralcare!
Central England Co-operative Funeralcare have been a client of Dimensions since 2016 and their entry of a gingerbread funeral director completely bowled us over!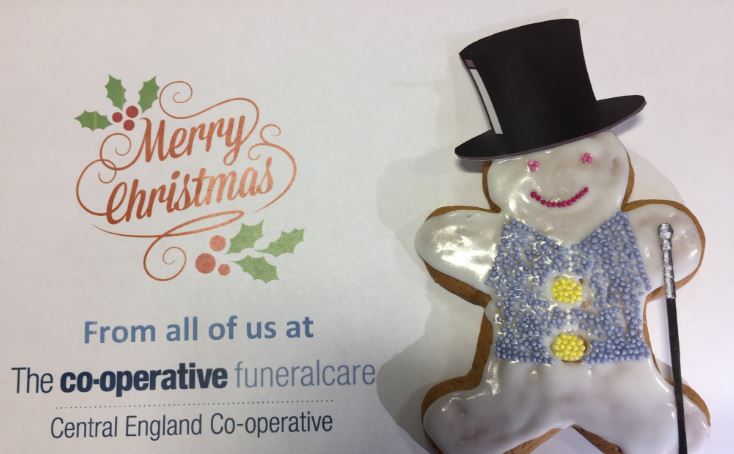 Central England Co-operative Funeralcare support the charity Dementia UK, and the total they have raised for them as a company is now in excess of £160,000! When they knew our prize was a donation to charity, they couldn't wait to get started in an attempt to add to this total!
Jennie Martin part of the Funeral Business Change Team and her colleagues at Central England Co-operative Funeralcare created the winning entry. A few hours were spent painstakingly separating the sprinkles into piles of separate colours and they were absolutely delighted to have found out they had won.
"When we received the gingerbread man and found out the prize went to our Charity it was a no brainer for us to at least have a go. I'd not long sat through a presentation from Dementia UK and it really brought home for me the fantastic work these admirable nurses do. I was elated to find out we'd won! We were bouncing around the office!"
Donna Hadley is a Volunteer Ambassador for Dementia UK and was present at the cheque presentation and said:
"Thank you very much, it'll make a huge difference to a huge amount of families. It will have a waterfall effect, it will trickle through from HQ where they train the nurses right down to the families of the patients these nurses are caring for. I can't thank Dimensions and Co-op Funeralcare enough for this donation."
At Dimensions we'd like to thank everyone that took part in our Christmas competition and we hope you enjoyed creating your masterpieces as much as we enjoyed looking at them!
To find out more about Dementia UK and the amazing work they do to support the patients and families living with Dementia please click here.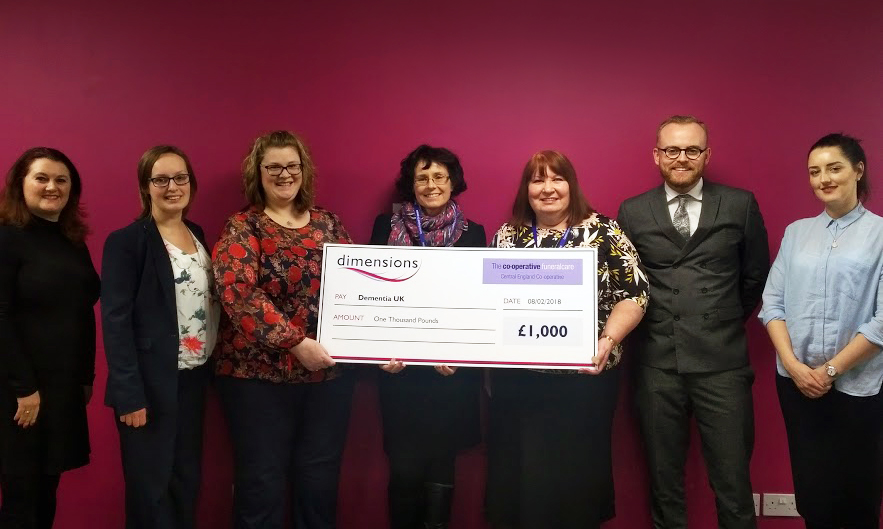 "I'm delighted with the amount of entries we received; our customers are certainly creative and it was a difficult decision to judge the winner! We are really pleased that Central England Co-operative Funeralcare won with their gingerbread funeral director, complete with top hat and cane. The attention to detail was amazing and Central England Co-operative Funeralcare were deserved winners!"